We turn your hard work into finished quilts.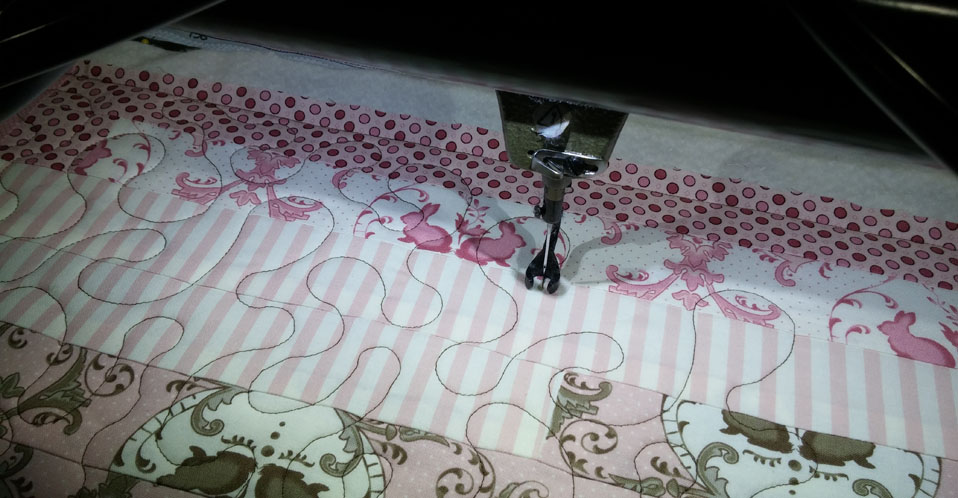 Our Computerised Long-arm Quilting Services
About the machine:
The Statler Stitcher is a computer software program combined with hardware which will operate a longarm quilting machine and can stitch almost any design.
A Gammill machine equipped with such software can handle an intricately patterned king-size quilt in a matter of hours (for an all over quilting design) instead of days and is guided by the computer instead of by hand.
The software package, Creative Studio, can determine pattern size, block size, stitches per inch, repetitions of the pattern and the offset of the pattern so that any design fits perfectly on any size quilt with all aspects of the pattern in proportion.
Preparing your Quilt for Machine Quilting:
Always cut fabric on the straight grain to ensure a straight edge.
Your backing and batting must be 3 inches larger than your quilt top in each of the four edges. 



This allows for attaching to the machine's rollers (top and bottom) and allows room for the clamps which hold the sides taut on the backing and batting on the machine.  If there is not enough room on the sides the machine head will hit the clamps and distort your pattern.

 All four sides of the backing fabric are to be squared and straight and ironed. 
Do not assume that fabric off the roll is straight as often it is skewed.  
Take care and iron seams in different directions to avoid lumps of material in corners i.e., in pinwheels etc.
 Consider the color of thread on top will be similar shade to the bottom thread. 
Quilting Styles and Categories:
Edge to Edge – This is a repeating pattern of your choice that starts at the top of the quilt and goes in rows to the bottom.  (This is the most economical way to quilt). 
Calculate Fees for Machine Quilting
Charging is done by the size of the quilt top combined with the style of quilting requested.  The various styles of quilting are charged at different rates.

First measure your quilt top to find the length and width in inches.
Next, is to multiply your length in inches times your width in inches. 
Then follow the formula below substituting your dimensions and the quoted pricing.
The example below shows our pricing for an edge to edge, all over-pattern (the most popular method).
Square inches
80 inches x 90 inches  = 7,200 square inches

7200 sq. in. X $0.02 = $144.00


The following prices are based upon you supplying the batting.
 Edge to Edge (E2E)     
(lots of patterns to choose from)               

 From $0.02 square inch.
(depending on complexity of pattern).

 Edge to Edge (E2E) including separate border or stitch around applique

Price to be based on complexity of quilt.  To be quoted on site.  Starts from $0..025 sq.inch.

 

Custom Work

       

Available

.
I have on hand and can be supplied at an extra cost.
Batting - Quilters Dream Cotton- $15/yard.
Batting - Quilters Dream Poly 80/20- $15/yard       

Prices subject to change without notice.